Front cover art (German pressing)

The elusive Poltergeist III soundtrack was quietly released by Varèse Sarabande (VCD 70462). There were no mention of soundtrack availability on the poster for Poltergeist III, unlike the previous Poltergeist posters. The rarest of them all is the American pressing, which is almost identical to the "dime-a-dozen" German issue. According to a film score website, this is one of the most collectible soundtrack.

track listing

VCD 70462

1. Meet The Friendly Window Washer (4:02)
2. This Is My Cousin Donna (4:09)
3. Music Lessons For The Over Achiever (5:10)
4. When Statues Move (4:14)
5. Skinny Dipper's Blues (4:38)
6. We're Back (4:39)
7. Mirror Mirror On The Wall (4:36)
8. Rescue Me (3:44)
9. Ending (3:03)


total time- 29:22

Music Composed and Performed by Joe Renzetti

Album Produced by Joe Renzetti

Executive Producers: Tom Null and Richard Kraft

Thanks to Rob Sands for his technical advice and assistance in recording this album and the film score.

Thanks to Tom Stephenson for his direction and assistance in the synthesizing of the sounds and music in this score.

Mastered at Amigo Studios • Mastering Engineer: Bob Hata

Matrix: Ric Hancock • Manufactured at KM Records

Printed at Stoughton Printing Co.

Here is a picture of a rare Poltergeist III LP (VCD 704.620). On the back cover, there is a close up enlargement of Carol Anne looking up to the skyscraper. The two bright red marks on the cover are just price stickers that were on the album cover when the picture was taken (they have since been carefully removed).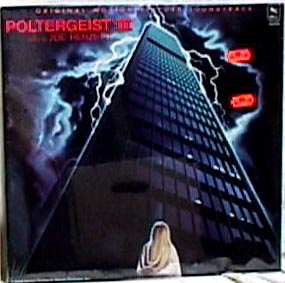 back to the 'Soundtracks' page

'Site map'

back to the 'Top'