style A poster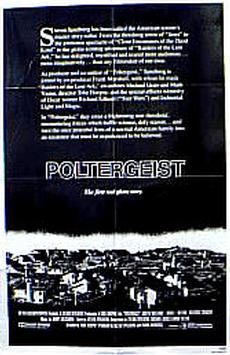 Steven Spielberg has been called the American screen's master story-teller. From the thrashing terror of "Jaws" to the awesome spectacle of "Close Encounters of the Third Kind" to the globe-trotting adventure of "Raiders of the Lost Ark," he has delighted, mystified and scared more audiences...more imaginatively...than any filmmaker of our time.
As producer and co-author of "Poltergeist," Spielberg is joined by co-producer Frank Marshall, with whom he made "Raiders of the Lost Ark," co-authors Michael Grais and Mark Victor, director Tobe Hooper, and the special effects wizardry of Oscar winner Richard Edlund ("Star Wars") and Industrial Light and Magic.
In "Poltergeist," they cross a frightening new threshold, encountering forces which baffle science, defy reason...and turn the once peaceful lives of a normal American family into an existence that must be experienced to be believed.
Poltergeist
The first real ghost story.
back to the catalogue of collectibles