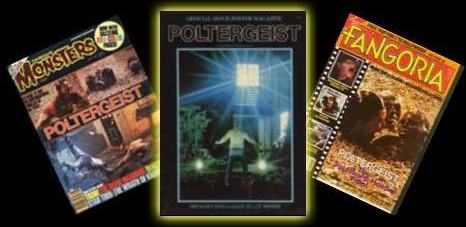 an Interview with Producer Frank Marshall

Film: 'Poltergeist' From Spielberg

'Poltergeist' laser disc scarier than everl

'Poltergeist' curse? The death of Heather O'Rourke

News Bytes:a collection of small articles related to the Poltergeist trilogy

News Bytes:more small articles related to the Poltergeist trilogy

News Bytes:even more small articles!

Writer/producers Michael Grais and Mark Victor know what scares you-further frights for the Freeling family in this supernatural sequel

Snatched By Poltergeist's Demons, Heather O'Rourke Gets Some Bad News-They're Here Again

Movie Review: 'POLTERGEIST II' is haunted by 'POLTERGEIST I'

JoBeth's Ghost Story

'Poltergeist' Star Heather O'Rourke Dies at Age of 12

TRIBUTE: Death Claims Heather O'Rourke, The Angelic Child Who Chased Away Demons in POLTERGEIST

Suit Blames Doctors in Death of Young Actress

Poltergeist III: Chicagoan Gary Sherman helmed the new sequel minus the usual optical effects trickery.

Just as her daughter's last movie, Poltergeist III, is released, Heather O'Rourke's mother files a wrongful-death lawsuit claiming the 12-year-old star was misdiagnosed

With the death of the child star in "Poltergeist III," MGM movie marketers are facing delicate task of selling the latest take on the Freeling family.

Heather O'Rourke; 12-Year-Old Starred In 'Poltergeist' Films

Here are some of the magazines where I got the Poltergeist related articles and information.





If you would like to contribute to the 'Articles' page, then contact me. Please make sure you are not sending me the same article(s). Thank you!


back to the 'Main' page

'Site map'

back to the 'Top'